Click on the button to open/close the dropdown menu.
What Are Virtual Sex Games?
Virtual sex games have grown increasingly popular at a rapid rate. Namely, adult softcore and hardcore games built in flash, javascript, and other popular coding languages have been a staple for the online adult entertainment community for a multitude of reasons.
They are addicting, filled with a variety of old school and new school gaming elements with plenty of tits, ass, and plenty of sex thrown in for good measure. Also, they are relatively easy to make compared to a full blown PC or console mainstream game titles that may take years of development.
There are plenty of interactive sex games are basically the "browser sex simulation games" of the Internet (As they can be played in a web browser). The sex is the real "game" with a variety of sex positions and other choices mixed in to create one of these virtual porn games. However, some games a have been known to have frustrating hard mini-games contained with them as part of the story. These mini-games end up being a bit of a challenge for many players and a worthy obstacle between the player and his or her "reward."
Many indie game developers have cranked out virtual sex games in a single weekend. For veteran players it's not hard to discern the games that took a considerable amount of time to create next to the ones that look like they were made by someone during their lunch break. This page contains the very best virtual sex games handpicked and NOT scraped from the net like a lot of other game sites do.
Free Browser Sex Games
Pay-To-Play Online Sex Games
The most current and technologically advanced virtual sex games are usually not free. Below you will find P2P (pay to play) sex games that either require a monthly subscription or a one time payment in order to play. Many of these games are online only (MMO Sex Game) so an internet connection may be required to play.
3D Sex Villa 2: MMO Sex Game
Considered the "Second Life for adults," 3D Sex Villa 2 is the leading online virtual sex game experience. The gameplay isn't obstacle oriented, it's completion based similar to receiving an achievement for clearing a whole map in your favorite MMORPG. In 3D Sex Villa 2 it's virtual sex toy collectables. Collectables are a big thing in ThriXXX's virtual sex world. From the your starting avatar to your virtual "home" that is created complete with a vast array of sex toys and tech for you and your visitors. Who has the biggest, lustiest virtual sex room online? ThriXXX let's you explore the answer to that question with 3D Sex Villa 2. Part online sex adventure for adults, part virtual sex simulator, part adult virtual friend finder, 3D Sex Villa 2 is the definitive leader of online MMO sex gaming currently.
Chathouse 3D: Adult Social Network For Virtual Sex Gaming
Chathouse 3D is similar to 3D Sex Villa 2 is a sense that they both contain a virtual sex simulator aspect but Chathouse 3D is heavily focussed on a user community for adults who enjoy virtual sex while 3D Sex Villa 2 is more on creating your very own virtual sex world as well as exploring others' online. Again, Chathouse 3D is about social networking while managing your avatar's preferences and hookup profile.
3D GoGo 2: Customizable CGI Virtual Strippers
ThriXXX's CGI customizable virtual stripper software. The same level of customization power as Chathouse 3D and Sex Villa 2, 3D GoGo 2 puts your avatar on the dance floor to your favorite music and the girls dance in sync with the music. Uses 'pro' mocap dance animations. Not a game but an interactive experience none the less.
Red Light Center & Utherverse
Red Light Center (RLC) is a privately owned Massively Multi-User Adult Virtual Reality site that was made available to the public early in 2006 by Utherverse Inc. Its tag line is "EXPAND Your Fantasy".
Red Light Center is modeled after Amsterdam's Red Light District.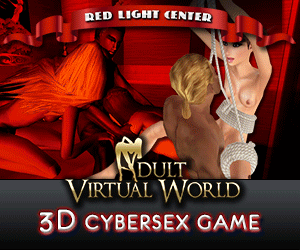 The online community site offers users virtual nightclubs, hotels, bars, movie theaters and stores. The virtual currency called Rays, which members can earn and use for services in the community, Zaby apartments, Gifts for other members, and various other purposes.
Rays can also be sold on an open Marketplace for real currency creating a way to make real money for users in the community who are very active.
Essentially, the "Utherverse" besides being the parent company is namely also the universe or "Metaverse" that contain all the cities that. Cities such as Red Light Center, Loki Land and Virtual Vancouver, while both a part of the big picture, are each separate entities connected to each other by "transport centers" linking them together.
In keeping with its suggestion that there should eventually be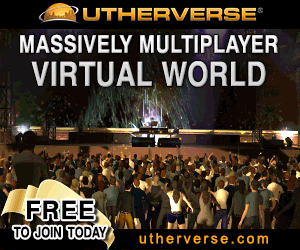 "millions of worlds, all of them connected, searchable, and customized..." the company claims it will license the use of its software infrastructure to anyone who wishes to create entire worlds on the scale of either of its existing properties, or much larger, on terms of a franchise.
Utherverse has recently released the groundwork for this with its Virtual World Web (VWW) option to its service. This enables any member to create a virtual world of their own for personal or business intent.
The Utherverse social center is all about adult dating. Freedom of speech and expression, within the confines of the law, are a key factor to the concept's appeal. There is a rewards system namely an in-world currency, referred to as 'Rays', in memory of Ray Schwartz, the late co-founder of Utherverse, which pays you for browsing profiles, rating pictures, creating and selling clothing etc. This currency and the vast amount of creativity in the Utherverse is also the driving force of the in-world economy.
Sex Game Devil's Sex Game Package
Adult PC game developer Sex Game Devil presents a pretty good deal for pay-to-play virtual sex games and virtual sex simulators. $19.99 will give a player access to 6 games including Sex Game Devil's newest (and biggest seller to date) 3DXChat which has just received a major update (
3DXChat 2.0
). 3DXChat is also SGD's first online sex game with advanced animations to simulate real sex. The rest of the games in Sex Game Devil's library are single play 3D sex games and adult adventure games that can be played offline.
Sex Simulator Games
3D Girlz 2
The most advanced current generation technology sex simulator game is
3D Girlz 2
. The animation and graphical textures alone are on par with many mainstream PC games. Although there is not much of a "game" to
3D Girlz 2
it is still a fun 3D sex experience.
Girlvania
Girlvania is a downloadable lesbian sex simulator game to be played offline. One time purchase with no membership or subscriptions required. There is a low definition modes make it playable even on older or Low-end PCs. The software is free of virus, spyware, and adware. It will only use your Internet connection for downloading Girlvania content to you so although an Internet connection is needed to initially download the game, Girlvania can be played completely offline. Click the image below to access the free demo (18+ only).
Egirl VR
Currently, the most advanced 3d "true VR" sex simulation available. Egirl VR brings the world class interactive babe Alys to your PC. Play the free demo now.
A fully interactive virtual reality stripper sex experience. Chat and interact with a digital girl in one of many virtual reality environments that are actually quite well done.
There is a seaside tower, a snowy mountain cave, as well as many other environments. Egirl offers VR experiences in exotic environments and some of the most advanced 3d graphics available today.
What sets this sex simulator apart from others is the inclusion of VR headset technology. Egirl is compatible with all major PC VR products such as Oculus Rift and HTC Vive making it a true virtual reality sex simulator.
FMV Interactive Sex Games
FMV (Full Motion Video) interactive sex games (also known as interactive porn games) are a new idea built on an old game medium. Most people remember FMV game technology from the 90's with such consoles as Sega CD. With 4K resolution becoming a standard, FMV games are back and FMV sex games are pretty much the interactive porn equivalent. More "interactive" than "virtual" as you are essentially choosing porn clips rather than being fully immersed with full control. A lot of popular porn stars can be found in these kinds of games.
Abandonware Sex Games
Modern virtual sex games have a pretty big range as far as tech level with browser based virtual sex games being near the bottom and fully immersive VR headset required virtual sex games being at the top. However, abandonware sex games are the earliest iterations of virtual sex games.
Abandonware is pretty much any software (or hardware) that is ignored by most, if not all, major parties involved which includes but is not limited to the owner/creator, product support members and possibly copyright enforcement entities. Typically abandonware sex games are no longer available for legal purchase.
A difference between abandonware sex games and discontinued sex games is that the manufacturer has not issued an official notice of discontinuance; instead, the manufacturer is simply ignoring the product.
Thanks to the Internet, abandonware sex games are available to be played free of charge.
One of the most famous (and first) is Softporn Adventure, which inspired the Leisure Suit Larry series of adult-oriented videogames.
Click here to play abandoware sex games free of charge.
Enjoy! (
Back to top...
)
For information about virtual sex and alternative virtual sex games click
HERE
.